Hello,
So I'm brand new to Synfig. I just downloaded it today since I've been looking for free alternatives to Flash. I seem to have everything else working fine, but unfortunately my graphics tablet's pressure sensitivity is not working, which is very important to my work.
I went into Input Devices and this is all I see listed: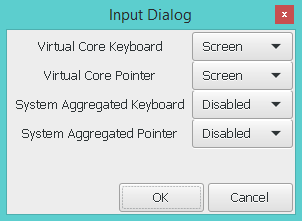 Neither of these options seem to correspond with my tablet or pen. I tried disabling options which I've seen suggested, but the Virtual Core options will not stay disabled, even when the other two options are enabled. I had a similar problem when using my tablet with GIMP and it turned out to be an issue with my driver software, but I don't think this is the same here.
Basically I am able to use my tablet with Synfig, but it only functions as another mouse with no pressure sensitivity. I do have the Pressure Sensitivity checkbox selected in Drawing mode.
My tablet is a Monoprice tablet, and I'm running Windows 8.1 64-bit.