Ever since I began working with Synfig, I have been confused by waypoint interpolation, and I often find that settings which I think will give me a smooth arc instead cause a slow-fast-slow-fast movement, or my animations follow unexpected curves.
Maybe somebody can help me wrap my head around this using an example project (see attached).smooth-motion.sifz (3.22 KB)
Note: I know that this can be achieved by following a spline, but this is to help me understand movement with waypoint interpolation, so that is how I would like to do it. I have read the documentation on interpolation and I am still very confused.
Essentially what I would like is linear speed but a curved shape, between waypoint 1 and waypoint 4, following the blue line. I have tried editing the TCB settings and improved on the original default settings, but both attempts are still way off.
Often when I try to do this it ends up creating an obvious 'corner' at waypoints 2 and 3. I don't want the circle to slow down at all as it passes them, I essentially want waypoints 2 & 3 to be invisible to the viewer. It seems like reducing the Tension setting improves this aspect, but I can't get it to a constant linear speed.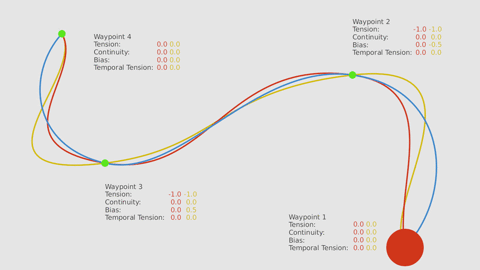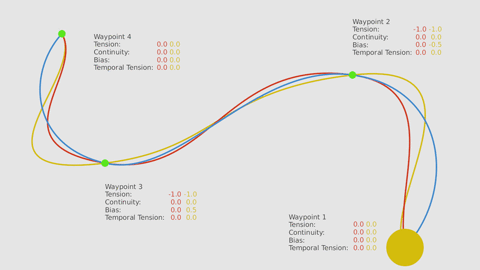 Do I need to include extra waypoints either side of these (i.e. waypoint 0 and waypoint 5) in order to achieve the curve that I want?
Any other suggestions for more reliable/more accurate use of waypoint interpolation?